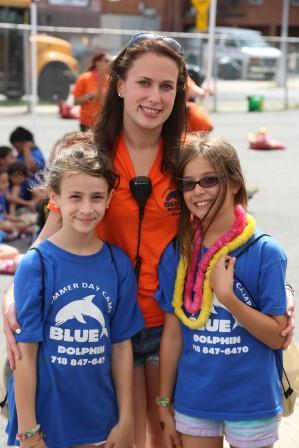 At Blue Dolphin Summer Camp we know that the difference between just a good time at camp and an incredible life changing experience rests solely on the shoulders of the staff. For that reason, employment at Blue Dolphin is highly selective.

We hire counselors who have a fun, positive spirit, who are self-motivated, and understand the sacrifice needed to be a servant. We are seeking mature, responsible men and women to join our summer staff. There are a variety of employment opportunities ranging from counselors and to program coordinators. Previous experience and certifications are a plus, but a love for children, and a willingness to serve others are most important.

One of the most important aspects of any camp is the quality of its staff. At Blue Dolphin Summer Camp we pride ourselves on our long-standing tradition of hiring caring, competent, and experienced individuals, many return year after year. Our staff is carefully selected from around the world and around the corner based on skills, maturity, ethical values and the ability to provide a positive experience for all the children we serve. We are a family at Blue Dolphin Summer Camp and we have the highest expectations for all of our staff members.

We are looking for dedicated, reliable and responsible individuals to join the Blue Dolphin Summer Camp team. Caring for children is a special job that requires patience, creativity, a good sense of humor, and leadership. We go to great lengths to find the right people who will be positive role models, who will be true to the Blue Dolphin Summer Camp mission and uphold our philosophies, and will enrich the lives of our campers. Campers will remember their "favorite" counselor for the rest of their lives.

When considering a staff position at Blue Dolphin Summer Camp, remember that we exist for the camper, and their needs always come first. Your role as a Blue Dolphin Summer Camp staff member will be challenging and demanding, rewarding and exhilarating at the same time. In short, we like to say "it's the hardest job you'll ever love!"

If you think you have what it takes to be part of the Blue Dolphin Summer Camp Team, we invite you to complete a staff application at an Open House. Three references are also required when being considered for hire. References must be individuals who are not family members or friends.